Rio Stava Family Resort & Spa
Tesero (TN)
| | |
| --- | --- |
| TripAdvisor | until 05/11, from 01/12 to 01/04/2024; 16/05 - 03/11/2024 |
We recommend Rio Stava Family Resort & Spa if...
Looking for children's entertainment?
We offer 8 hours of entertainment services every day for children 2 years and up, as well as soft indoor play rooms and a 10,000 square metre park with play areas.
Looking for a Family Hotel?
We offer baby services, children's menus and baby food, organised family activities, swimming pool, sauna, and even spa treatments and massages for children.
Looking for a Spa?
Our 1500 square metre wellness centre features heated indoor and outdoor pools, and offers exclusive spa treatments, even for children.
The hotel in two words
The Rio Stava Family Resort & Spa in Tesero is perfect for families looking for a holiday experience full of fun and personal wellness. The 1500 square metre Spa features a Turkish bath, various types of saunas, a Whirpool grotto, and several relaxation areas. There's a swimming pool for children, and one for adults connected to the outdoor hot tub. Treatments and massages are even available for children and teens, just like mum and dad.
Read more
The resort is immersed within a 10,000 square metre garden, complete with play areas and an eco-friendly artificial lake for swimming, and also has lots of colourful indoor and outdoor rooms, where the entertainment staff organise fun games and activities for children ages 2 and up. The Mini Club is open 8 hours a day, 7 days a week, offering games, workshops, and evening shows. There are plenty padded play rooms for infants and toddlers 0 to 2 years of age, as well as multimedia rooms for teens. Family trips, excursions, and snowshoeing activities are organised in both summer and winter.
The hotel offers an exclusive soft all-inclusive gourmet ¾ board package, which also includes beverages. The day begins with a large breakfast consisting of bread, croissants, cakes, pies, focaccia, jams, local cold cuts and cheeses, yoghurt, eggs, an organic food corner, and fresh fruit. From 3:00 p.m. to 5:30 p.m., guests can enjoy an afternoon snack complete with appetisers, mini pizzas, focaccia, pastries, and desserts, all of which are homemade. At dinner, guests can choose between 4 different menus featuring local specialties, all accompanied by a delicious buffet of appetisers, vegetables, salads, cheeses, and fruits, as well as an excellent selection of wines from the cellar.
The children eat with the entertainment staff, and have delicious children's menu items to choose from. The kitchen staff will also prepare baby foods, broths, and purées for guests with weaning infants.
Close
All-Inclusive services
Main services
Beverages included with meals
Entertainment
Themed evenings with samplings of traditional products
Excursions
Garage
See all
Service types available
All-Inclusive with beverages at meals
Services at the hotel
Gluten-free cuisine
Vegetarian cuisine
Free bike rentals
Reception from 6 a.m. to midnight
Pool
See all
Wi-Fi
Wellness Centre
Fitness room
Garden
Solarium
Playground
Bar
Laundrette
Close
Rooms
All the rooms have wooden floors and furnishings. They are 12 categories of rooms available, including suites and family suites, all of which are meticulously cleaned and maintained, and come complete with furnished balconies.
In all the rooms you'll find...
Wi-Fi
Heating
Safe
Minibar
Hair dryer
TV SAT
Merisana Classic Room
These 21 square metre double rooms furnished in larch wood can comfortably accommodate 2 to 3 people. They come complete with either a large terrace or balcony, and bathrobes and slippers are provided for the entire family.
Cadina Junior Suites
These 30 square metre Junior Suites are furnished in oak wood, and are ideal for families of 3 to 4 people. They come complete with balconies, and bathrobes and slippers are provided for the entire family.
Montipallidi Family Suites
Consisting of two adjoining double rooms, a separate entryway, a bathroom with a large shower, and two furnished balconies, these spacious 44 square metre Family Suites are furnished in ash wood, can accommodate families of 4 to 5 people. Bathrobes and slippers are also provided for the entire family. Guests who choose a Family Suite are provided with a reserved parking space in a garage.
Quick free quote
This the hotel has already received 4805 requests
SUPER QUICK reply!!
VERY QUICK reply!
QUICK reply!
Complete this form and this hotel will reply to you via email by
00

:

00

o'clock

today

tomorrow
. Check your email!
You might be interested in...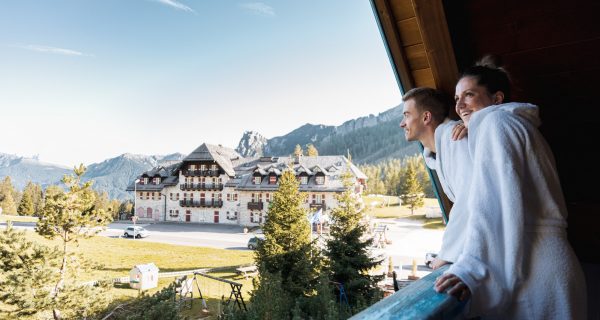 Hotel Savoy ***
City: San Giovanni di Fassa (TN)
Open: from 04/12 to 27/03 and from 02/06 to 02/10
383 reviews
Starting at € 69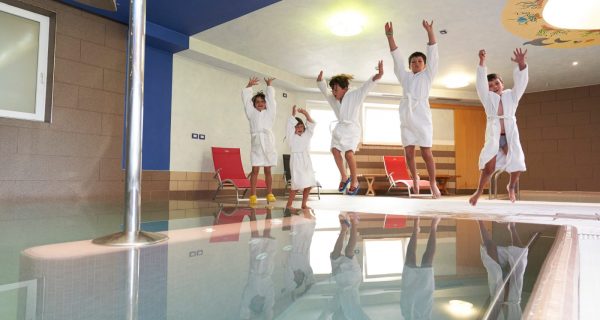 Hotel Andes Family & Wellness ****
City: Vigo di Fassa (TN)
Open: from 07/12 to 19/03 and from 17/06 to 17/09
847 reviews
Pool
Wellness Centre
Pets
Entertainment
Wi-Fi
Excursions
Starting at € 85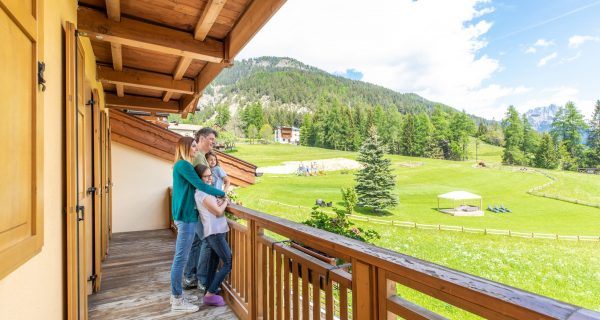 Hotel La Grotta ****
City: San Giovanni di Fassa (TN)
Open: from 04/12 to 27/03 and from 02/06 to 17/09
1104 reviews
Wellness Centre
Entertainment
Wi-Fi
Excursions
Starting at € 69