Andalo
Known as the Queen of the Pinè Plateau, Andalo is a lively little town where visitors can enjoy a carefree all-inclusive holiday experience all year round. The all-inclusive hotels in Andalo guarantee all the best services, including exceptional local cuisine and wines, summer and winter sports activities, and fun excursions in close contact with nature, which are suitable for the entire family.
Read more
One of the most memorable things to do in Andalo is to take a stroll along the shores of the picturesque Lake Molveno, which is just 7 km away, and has been awarded the "Five Sails of Legambiente" several times. The lake can be easily reached by car during the summertime, allowing visitors to relax at its well-equipped beach facilities, or enjoy a pedal boat excursion.
The AcquaIN Park water park is situated right in the heart of Andalo, and is open all year round. The park features a rubberised baby pool with shallow water, a water slide, a spectacular outdoor hot tub with a panoramic view of the Dolomites, a semi-Olympic swimming pool, and a Spa & Wellness area where visitors can enjoy pleasant spa treatments.
Winter sports enthusiasts can enjoy 50 km of slopes at the Snowpark, which has something for people of all skill levels. Andalo is also a perfect starting point for Nordic skiing, ski mountaineering, and memorable snowshoeing excursions. In town, there's even the Andalo Life Skating rink, where visitors can enjoy some fun time on the ice with their friends, families, or partners.
Those looking for adventure can spend time exploring the 7000 square metre Spormaggiore Wildlife Park, which is just 10 km from Andalo. Here, visitors will have the opportunity to see wolves, brown bears, foxes, lynxes, and eagle owls, all within a beautiful forest of beech, fir and larch trees.
Close
Found: 1 facility

Filter by type

Families (1)

Couples (0)

Senior (0)

Under 25 (0)

Filter by service type

All-Inclusive without beverages (0)

All-Inclusive with beverages at meals (0)

All-Inclusive with beverages around the clock (0)

All-Inclusive with beverages around the clock and snack (0)

Filter by services

Gluten-free cuisine (1)

Pets welcome (0)

Pool (1)

Wellness Centre (1)

Parking (1)

Bar (1)

Laundrette (1)

News stand (0)

Market / Supermarket (0)

Entertainment for adults (1)

Themed evenings with samplings of traditional products (1)

Excursions (1)

Children's pool (0)

Entertainment for children (1)

Play area / Miniclub / Babyclub (1)
Show

1

hotels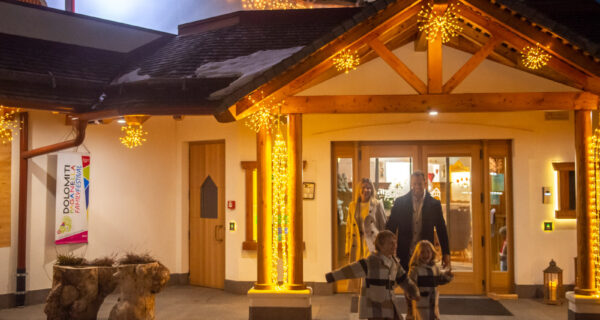 Hotel Ambiez ****
City: Andalo (TN)
Open: From 06/12/23 to 02/04/24 - from June to September 2024
732 reviews
Pool
Wellness Centre
Entertainment
Wi-Fi
Excursions
Starting at € 85