Hotel Savoy
San Giovanni di Fassa (TN)
| | |
| --- | --- |
| TripAdvisor | from 04/12 to 27/03 and from 02/06 to 02/10 |
We recommend Hotel Savoy if...
Looking for a family hotel?
We offer organised experiences, 11 hours of entertainment services, dinner with the entertainment staff, an afternoon snack, and baby services.
Want to relax by the pool?
Our large, heated pool with a hot tub and a panoramic view of the Dolomites is open from 3 p.m. to 8 p.m.
Want to pamper yourself?
Our wellness centre features a sauna, Turkish bath, aromatic showers, herbal tea, massages, and spa treatments.
The hotel in two words
The Hotel Savoy is located in Val di Fassa, and offers extraordinary views of the surrounding Dolomites. It belongs to the MyTime Hotels group, whose properties are intended for families looking to spend their time and holidays together, offering activities broken down by age group, 6 days a week, from 9 a.m. to 4 p.m. The age groups consist of adults, children 3 to 9 years of age, and children 9 to 15 years of age, and the activities include bike tours, chamois spotting excursions, climbing, family rafting, snowshoeing, and strolls in the snow. In the wintertime, the children attend ski school with the entertainment staff.
Read more
After returning from a morning of outdoor activities, they can take part in more fun and games at the Mini and Teen Clubs from 4 to 10 pm! And while the little ones are busy playing and participating in the workshops, mum and dad can relax at the Spa, or take a dip in the heated pool overlooking the mountains.
The hotel offers half board service, but guests can take what they like from the breakfast buffet to enjoy for lunch, and can indulge a large afternoon snack, consisting of sweet and savoury options, when they return from their excursions or from the slopes!
Guests will certainly be impressed with the culinary experience, which consists of excellent quality Trentino cuisine made with fresh local products. The day begins with a spectacular breakfast in the panoramic room, and a traditional dinner is served in the evening, with children dining together with the entertainment staff and their new friends. Children get to choose from a range of Children's Menu items, and have the opportunity to participate in two VIB (Very Important Children) evenings, not to mention various shows and Baby Dance parties.
Close
All-Inclusive services
Main services
Entertainment
Excursions
Parking
Service types available
All-Inclusive with beverages at meals
Services at the hotel
Gluten-free cuisine
Vegetarian cuisine
Pets welcome
Reception from 6 a.m. to midnight
Pool
See all
Wi-Fi
Garden
Playground
Bar
Laundrette
Close
Rooms
All the guest rooms have fantastic views of the Dolomites, are furnished in alpine style, and come complete with every comfort, including baby services.
In all the rooms you'll find...
Wi-Fi
Heating
Safe
Hair dryer
TV SAT
Standard rooms
These rooms are available in double, triple, quadruple versions, and can comfortably accommodate even the largest families. The bright Standard rooms feature large windows and balconies with views of the mountains.
Savoy Family rooms
These spacious units are perfect for families of up to 5 people who like to have some privacy even when on holiday. They have two separate sleeping areas, consisting of one double bedroom and a smaller bedroom for the children, as well as a balcony with a view of the mountains. They're even available with 2 bathrooms, and with two-floor layouts.
Quick free quote
This the hotel has already received 4975 requests
SUPER QUICK reply!!
VERY QUICK reply!
QUICK reply!
Complete this form and this hotel will reply to you via email by
00

:

00

o'clock

today

tomorrow
. Check your email!
You might be interested in...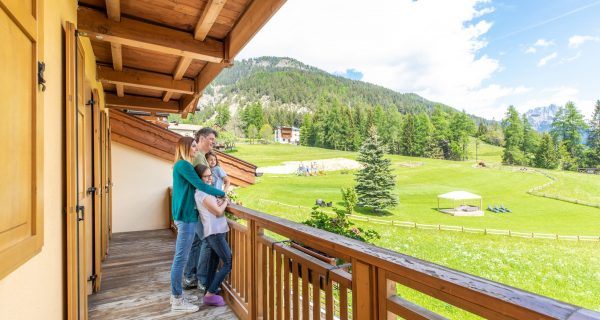 Hotel La Grotta ****
City: San Giovanni di Fassa (TN)
Open: from 04/12 to 27/03 and from 02/06 to 17/09
1104 reviews
Wellness Centre
Entertainment
Wi-Fi
Excursions
Starting at € 69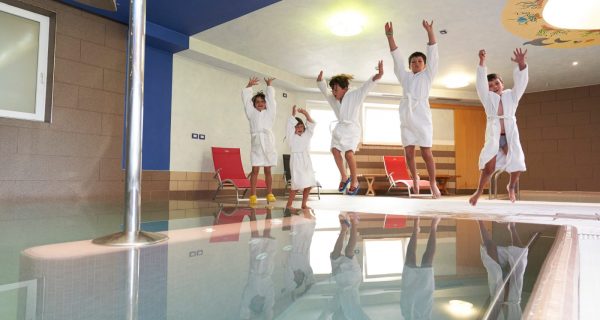 Hotel Andes Family & Wellness ****
City: Vigo di Fassa (TN)
Open: from 07/12 to 19/03 and from 17/06 to 17/09
847 reviews
Pool
Wellness Centre
Pets
Entertainment
Wi-Fi
Excursions
Starting at € 85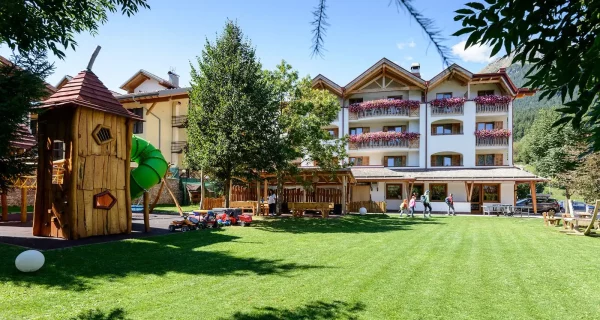 Hotel Ambiez ****
City: Andalo (TN)
Open: from 07/12/2022 to March 2023 - from June to September 2023
732 reviews
Pool
Wellness Centre
Entertainment
Wi-Fi
Excursions
Starting at € 85