Hotel Eliseo
Riccione (RN)
| | |
| --- | --- |
| TripAdvisor | from 01/03 to 30/09 |
We recommend Hotel Eliseo if...
Looking for a unique location?
We're situated just 40 metres from the beach, and just a stone's throw from the Riccione town centre.
Like good food?
We offer homemade sweets, themed culinary evenings, and excellent wines, including organic varieties.
Want modern rooms?
Our recently renovated and soundproofed rooms include private terraces.
The hotel in two words
The Hotel Eliseo overlooks the fine sands of the beach from a distance of just 40 metres, where guests can relax at their reserved spot, complete with a beach umbrella and sun loungers. The pedestrian areas of ​​Viale Dante and the popular Viale Ceccarini, where guests can enjoy the Riccione nightlife and explore the various shops, are within easy walking distance, with bicycles available for those who prefer to ride.
Read more
In the morning, guests will wake up to the scent of fresh baked homemade pastries, and can start their day off with a large breakfast complete with sweet and savoury options, all served on the veranda overlooking the garden. Meals feature traditional Emilia Romagna cuisine, and guests will also have the opportunity to enjoy the themed "Sailor's" and "Farmer's" evenings, not to mention the Sunday evening aperitif. All accompanied by excellent organic wines. A great deal of attention is dedicated to those suffering from food intolerances.
Guests can make the most of their holiday experience right in the heart of Riccione, with an All-Inclusive package that includes beach service at two different affiliated establishments, where they'll find fun entertainment activities for children and sports activities for adults. A restful stay is guaranteed thanks to the recently renovated and soundproofed guest rooms. These comfortable rooms are kept meticulously clean, and come complete with every comfort, including a private terrace. Comfortable and spacious adjoining Family Rooms are available for those travelling with their families.
Close
All-Inclusive services
Main services
Entertainment
Excursions
Beach services with beach umbrella + 2 sun loungers
Parking
Service types available
All-Inclusive without beverages
All-Inclusive with beverages at meals
Services at the hotel
Gluten-free cuisine
Pets welcome
Free bike rentals
24-hour reception
Wi-Fi
See all
Rooms
Each room is equipped with the very best services to ensure a restful stay.
In all the rooms you'll find...
Wi-Fi
Air-conditioning
Minibar
Hair dryer
TV SAT
Standard rooms
These spacious rooms are located on the first 3 floors, and feature balconies overlooking the garden, with a side view of the sea. They can accommodate up to 4 people, and can be adjoining upon request. The rooms on the 4th floor are newly furnished, and feature large private terraces overlooking the garden, complete with deck chairs, from which guests have a view of the sea.
Superior rooms
These spacious and soundproofed rooms located on the first 3 floors of the hotel range from 17 to 20 square metres in size, and feature balconies overlooking the garden, all with side views of the sea. All the rooms come with one double and one single bed, or one double bed, one single bed, and a full-size bed. Also available in the Family Room version, with two adjoining rooms, which is ideal for families on holiday!
Quick free quote
This the hotel has already received 2414 requests
SUPER QUICK reply!!
VERY QUICK reply!
QUICK reply!
Complete this form and this hotel will reply to you via email by
00

:

00

o'clock

today

tomorrow
. Check your email!
You might be interested in...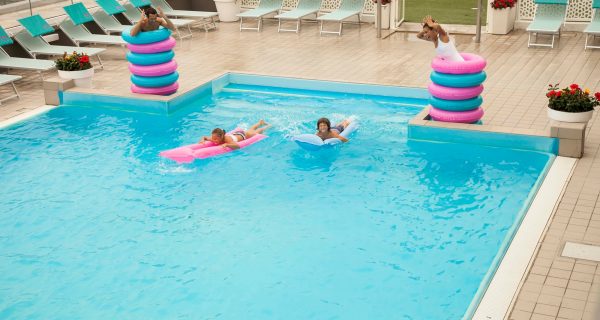 Club Family Hotel Riccione ***
City: Riccione (RN)
Open: from 28/05 to 12/09
601 reviews
Pool
Beach
Entertainment
Wi-Fi
Starting at € 94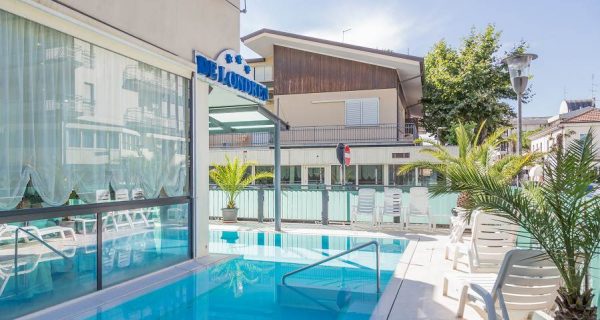 Hotel De Londres ***
City: Riccione (RN)
Open: from 28/05 to 10/09
296 reviews
Pool
Pets
Entertainment
Wi-Fi
Starting at € 51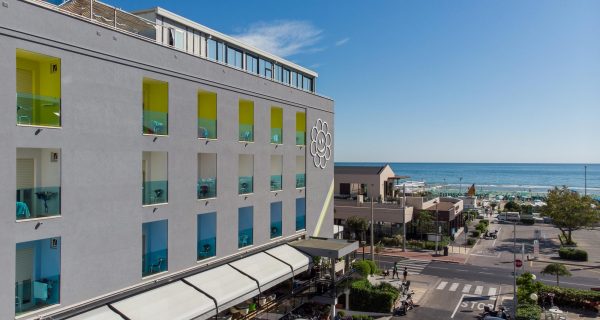 Hotel Adelphi ***
City: Riccione (RN)
Open: from 01/06 to 15/09
512 reviews
Pool
Beach
Pets
Entertainment
Wi-Fi
Starting at € 64