Color Miami Beach Family Hotel
Milano Marittima (FC)
We recommend Color Miami Beach Family Hotel if...
Want a hotel on the beach?
Directly overlooking the sea, a stone's throw from the private beach with entertainment and swimming pool
Looking for a Premium All-Inclusive stay?
All inclusive by Color, also with unlimited drinks, snacks and tasty treats between meals
Want super entertainment every day?
Mini Club, Junior Club, Teen Club on the beach and at the hotel, with different activities every time
The hotel in two words
The Color Miami Beach Family Hotel in Milano Marittima, is part of the big family of Color Hotels, leaders in holidays with the children! The hotel is directly overlooking the sea and has a splendid private beach with a swimming pool, where there is a beach umbrella and 2 sun loungers reserved for you.
Read more
With the Premium All Inclusive formula, you can set off without worries and with the security of a carefree holiday for you and your children. The qualified entertainment staff organises activities, shows and walks, both for children and adults: Mini Club from 4 to 10 years of age, Young Club from 11 to 14 years of age, Teen Club from 15 to 18 years of age.
For toddles from 0 to 3 years of age, dedicated services are available in your room and there's a 24-hour open kitchen, for preparing baby food. At the Mini Cocoland, the colourful recreational area of the hotel, the youngest children can have fun with exciting and interactive games.
Then there's the Color Explosion, for explosive fun to the rhythm of music starring the colours of the rainbow; the Foam Party that transforms the private beach into a cloud; the Candy Night with chocolate fountains, fresh fruit cascades, doughnuts, sweets and plenty of cakes.
And what about the food? Well, an extraordinary culinary experience awaits you – the Color Food Immersion, including snacks and tasty treats between meals and drinks on tap always available, on the beach and at the hotel.
Close
All-Inclusive services
Main services
Beverages included with meals
Beverages at the bar (soft drinks)
Beach services with beach umbrella + 2 sun loungers
Parking
Service types available
All-Inclusive with beverages around the clock and snack
Services at the hotel
Free bike rentals
24-hour reception
Pool
Wi-Fi
Rooms
80 comfy rooms, where you can enjoy a restful stay. Large spaces for families, a lovely sea view, top quality amenities. If you're travelling with toddlers, the hotel provides you a night light, bottle warmer, baby bath, camping cot and milk for the night-time.
In all the rooms you'll find...
Wi-Fi
Air-conditioning
Safe
Minibar
Seafront
14-16 m2 that can accommodate up to 4 people. They have a balcony with a front sea view and refined spaces with a double bed, a bunk bed, or single bed, air conditioning, minibar, Satellite TV, Wi-FI.
Family Rooms
Two 14-16 m2 adjoining rooms, that can even accommodate families of 6 people. They have 2 double beds, a bunk bed, 2 bathrooms and a balcony overlooking the sea. An additional bed or cot can be added.
Color rooms
Bright comfortable rooms, 14-16 m2 in size, with a small balcony with a side view of the sea and the road. The Color rooms have a double bed, 1 bunk bed or a single bed. They can accommodate up to 4 people.
Cuisine
Vegetarian cuisine
Show cooking
At the Color Miami Beach Family Hotel in Milano Marittima you'll find special buffets of dishes prepared show-cooking style: hot and cold appetisers, first courses, meat and fish second courses, a fantastic Grill Corner, plenty of vegetables, fruit and soft-ice cream. In the evening, there are also homemade cakes and desserts. In addition, the drinks are included with meals, between meals and even on the beach, all day long. There's also a corner dedicated to children, with tasty and simple dishes to meet their needs.

At breakfast you'll find a buffet with a wide choice of tarts, cakes, yoghurt, cereals, eggs, cold cuts and cheeses, fruit and jams. And what about snack time? There's the Food Corner with hamburgers, pancakes and hot dogs for a snack fit for champions.
Quick free quote
This the hotel has already received 2382 requests
SUPER QUICK reply!!
VERY QUICK reply!
QUICK reply!
Complete this form and this hotel will reply to you via email by
00

:

00

o'clock

today

tomorrow
. Check your email!
Hotel contacts
Color Miami Beach Family Hotel
Milano Marittima (FC)
Codice CIR: 039007-AL-00407
Visit the website
You might be interested in...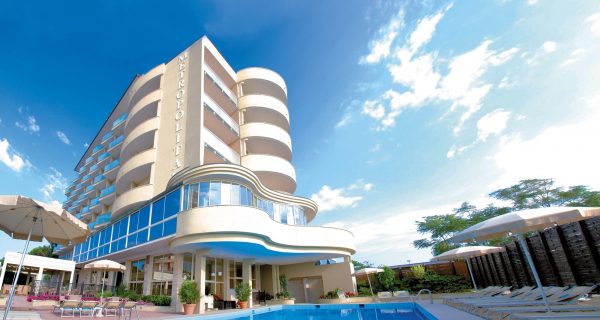 Metropolitan Hotel ****
City: Milano Marittima (RA)
Open: from 28/05 to 11/09
438 reviews
Pool
Beach
Pets
Entertainment
Wi-Fi
Starting at € 59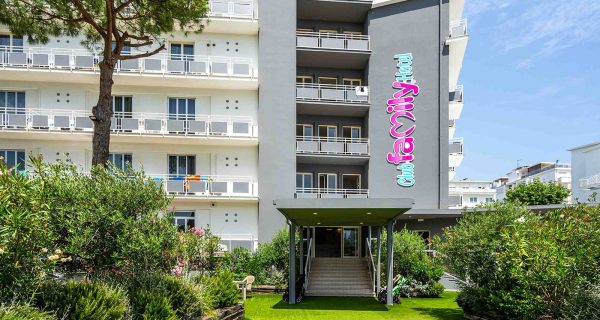 Club Family Hotel Village Milano Marittima ***
City: Milano Marittima (RA)
Open: from 10/06 to 9/9
Pool
Beach
Pets
Entertainment
Wi-Fi
Excursions
Starting at € 98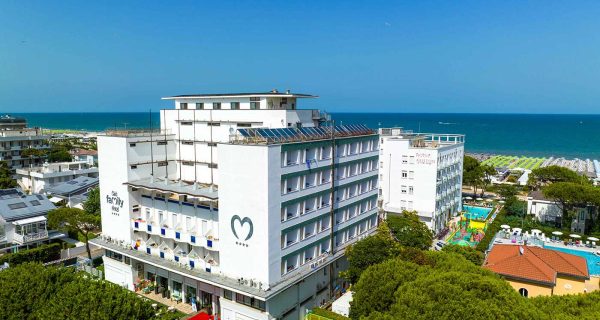 Club Family Hotel Milano Marittima ****
City: Milano Marittima (FC)
Open: from 25/05/24 to 14/09/24
714 reviews
Pool
Beach
Pets
Entertainment
Wi-Fi
Starting at € 82