| | |
| --- | --- |
| TripAdvisor | from 07/12/2022 to March 2023 - from June to September 2023 |
We recommend Hotel Ambiez if...
Looking for a Family Spa?
We offer relaxation, personal wellness, and special Spa treatments for the entire family, including children!
Want a super Mini Club?
Our Mini Club offers workshops, cooking classes, excursions, games, and shows every day from 8:30 a.m. to 10:30 p.m.
Like being surrounded by nature?
We offer family excursions and experiences in close contact with nature, all throughout the year.
The hotel in two words
The Ambiez Dolomiti Family Style Hotel is located in Andalo, on the Paganella Plateau, right in the heart of the Dolomites. Here, guests will enjoy a 100% family-oriented holiday, complete with activities, personal wellness options, and family-friendly services. Children are even welcome at the Hotel Spa, where they can enjoy children's treatments and relax in the heated indoor pool area, complete with a hot tub.
Read more
The hotel offers excellent entertainment services for children and teenagers 3 to 12 years old. Every day there are workshops, competitions, cooking classes, and shows, from 8:30 a.m. to 10:00 p.m. There's also a large indoor game room, and a large garden area complete with play areas and sports facilities. Thanks to the Activity programme, there are also plenty of excursions available for the whole family.
The food consists of traditional Trentino entrées and international cuisine, all made with fresh and authentic ingredients, and with options available for those who suffer from food intolerances. For little ones, the hotel offers delicious children's menu items, and the possibility of enjoying meals at flexible times, either with mum and dad, or with the entertainment staff. Broths, purées, organic creams, organic HIPP purées, pasta, steamed meat slices, gluten-free ham and fresh cheeses are available for weaning children.
Close
All-Inclusive services
Main services
Entertainment
Themed evenings with samplings of traditional products
Excursions
Garage
Parking
Services at the hotel
Gluten-free cuisine
Vegetarian cuisine
Free bike rentals
Reception from 6 a.m. to midnight
Amusement park affiliation
See all
Pool
Wi-Fi
Wellness Centre
Fitness room
Garden
Solarium
Playground
Bar
Laundrette
Close
Family services
Snack
Entertainment at the hotel
Children's menu and flexible meal times
Play area / Miniclub / Babyclub
Family Rooms
Rooms
The rooms at the Ambiez Dolomiti Family Style Hotel are furnished in alpine style. Boasting an elegant design, they come complete with wooden furnishings and all the services needed for a pleasant family holiday. There are various types available: Comfort rooms, Junior Suites, Family rooms, Suites, Family Suites, and Two-room and Three-room apartments.
In all the rooms you'll find...
Wi-Fi
Heating
Safe
Minibar
Hair dryer
Comfort rooms
These 22 square metre rooms are bright and elegant, and are ideal for those who prefer accommodations furnished with style.
Junior Suites
These 27 square metre suites are beautifully decorated with a touch of imagination! The feature splendid wood finishes, and are themed with fantasy motifs designed specifically for children.
Cuisine
À la carte restaurant
Wide choice of wines
Gluten-free cuisine
Cuisine for intolerances
Vegetarian cuisine
Children's lunch with entertainers
Locally-grown products
Organic products
Quick free quote
This the hotel has already received 4950 requests
SUPER QUICK reply!!
VERY QUICK reply!
QUICK reply!
Complete this form and this hotel will reply to you via email by
00

:

00

o'clock

today

tomorrow
. Check your email!
You might be interested in...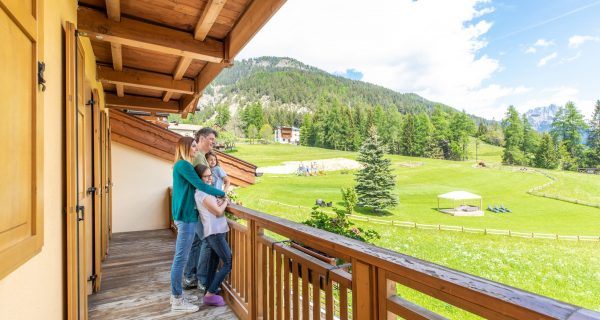 Hotel La Grotta ****
City: San Giovanni di Fassa (TN)
Open: from 04/12 to 27/03 and from 02/06 to 17/09
1104 reviews
Wellness Centre
Entertainment
Wi-Fi
Excursions
Starting at € 69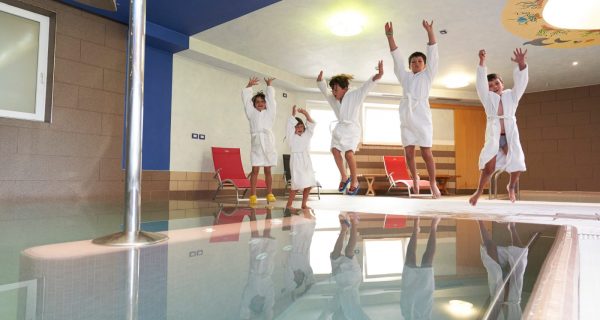 Hotel Andes Family & Wellness ****
City: Vigo di Fassa (TN)
Open: from 07/12 to 19/03 and from 17/06 to 17/09
847 reviews
Pool
Wellness Centre
Pets
Entertainment
Wi-Fi
Excursions
Starting at € 85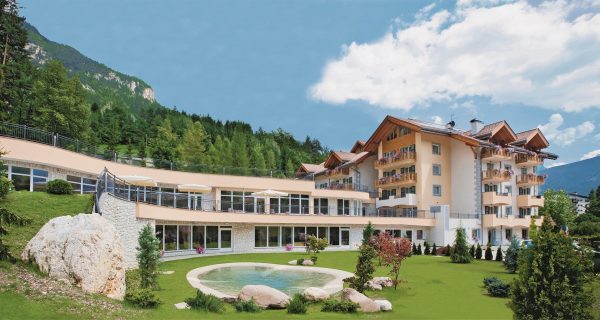 Rio Stava Family Resort & Spa ****
City: Tesero (TN)
Open: until 05/11, from 01/12 to 01/04/2024; 16/05 - 03/11/2024
837 reviews
Pool
Wellness Centre
Entertainment
Wi-Fi
Excursions
Starting at € 78