All Inclusive Hotel in Rossano Calabro
From its beautiful location in the Sibari plains, between La Sila and the crystal-clear Ionian Sea, Rossano Calabro is an exceptional panoramic point in the territory. An All Inclusive vacation at one of the hotels in Rossano Calabro adds a memorable touch to an experience that combines all the best the region has to offer: careful and genuine hospitality, a cuisine that represents the essence of Calabria, all services always included to ensure a careless vacation at all times.
Read more
The Schiavonea seafront is a priceless gem that boasts stupendous and well-equipped beaches, where tourists of all ages can feel well at ease. Of course, there are plenty of disco clubs and other venues for those looking for pleasant mundane soirées.
This is also a great place for anyone who wants a couple of days exploring culture and nature, in addition to relaxing at the beach and at the hotel. The centre of Rossano Calabro is home to several historical and religious buildings of interest, especially the Museo Diocesano del Codex, with its Rossano Gospels (Codex Purpureus Rossanensis) now a member of the UNESCO Memory of the World Register.
Still in the territory of Corigliano-Rossano, there is the Giganti di Cozzo del Pesco Natural Park, a natural reserve with an incredible atmosphere where trekkers can follow many different paths according to their fitness level and, in particular, push all the way to the monumental grove to admire 12 very ancient chestnut trees.
Among the typical delicacies of Rossano Calabro that are a must-taste are the famous liquorice and the Bruzio PDO extra virgin olive oil.
Close
Found: 1 facility

Filter by type

Families (1)

Couples (1)

Senior (1)

Under 25 (0)

Filter by service type

All-Inclusive without beverages (0)

All-Inclusive with beverages at meals (1)

All-Inclusive with beverages around the clock (0)

All-Inclusive with beverages around the clock and snack (0)

Filter by services

Gluten-free cuisine (1)

Pets welcome (1)

Pool (1)

Wellness Centre (0)

Parking (0)

Bar (1)

Laundrette (0)

News stand (0)

Market / Supermarket (1)

Entertainment for adults (1)

Themed evenings with samplings of traditional products (0)

Excursions (1)

Children's pool (1)

Entertainment for children (1)

Play area / Miniclub / Babyclub (1)
Show

1

hotels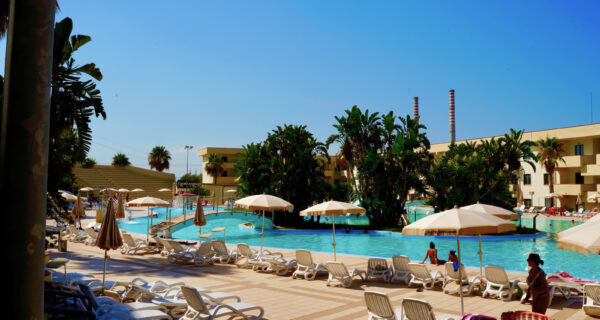 Roscianum Resort ****
City: Corigliano- Rossano (CS)
Open: from 10/06 to 09/09
888 reviews
Pool
Pets
Entertainment
Wi-Fi
Excursions
Starting at € 55